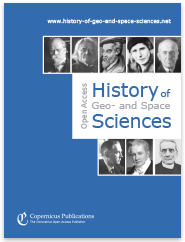 Executive editor: Kristian Schlegel
History of Geo- and Space Sciences (HGSS) is a not-for-profit international scientific journal dedicated to the publication and public discussion of high-quality research on some of the numerous aspects about the development over time, i.e. the history, of sub-disciplines within the geosciences and geophysical sciences, which in their entirety address the Earth system and its space environment. The scope of the journal includes the following: the acquisition of long-term geophysical observations; the individuals, the institutions, and the instruments for obtaining the relevant data; the role of dedicated field experiments as an extension of routine observations; the development of ideas and theoretical concepts as decisive backcloth for research processes and data acquisitions; international and interdisciplinary co-operations within the geosciences; historical developments of geopolitical aspects and their societal impacts.
From 1 July 2021 on, all new submissions will undergo a two-stage publication process with the publication of an access-reviewed preprint as the first stage (HGSS Discussions) and a final-revised journal article publication in HGSS as the second stage. Only papers that successfully pass the open discussion involving publicly accessible reviewer comments will finally be published in HGSS.