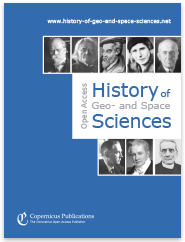 Executive editor: Kristian Schlegel
The scope of History of Geo- and Space Sciences (HGSS) is to document historical facts and knowledge and to improve awareness of the history of geoscience. The knowledge of the development of geosciences and their experimental methods and theories in the past can improve our current understanding and may stimulate current research. It is encouraging for young scientists to read biographical material of historical figures in their research area. It is important as well to learn that history of science is an integrated part of  the ongoing research in their research area. Another important aim of the journal is the association of historical retrospective and current research.
From 1 July 2021 on, all new submissions will undergo a two-stage publication process with the publication of an access-reviewed preprint as the first stage (HGSS Discussions) and a final-revised journal article publication in HGSS as the second stage. Only papers that successfully pass the open discussion involving publicly accessible reviewer comments will finally be published in HGSS.